Slovakia is one of the fastest–growing economies among OECD countries and the EU. Being a member of the EU, NATO and Eurozone have helped Slovakia to well integrate among the other European countries. The country is also a member of a Visegrad 4; an alliance of 4 countries in Central Europe (together with Poland, Czech Republic, Hungary), the fastest-growing part of Europe. 
| | |
| --- | --- |
| Official name | Slovak Republic |
| Area  | 49,035 km2  |
| Population | 5.4 million  |
| Capital | Bratislava |
| Regions | Bratislava, Trnava, Trenčín, Nitra, Žilina, Banská Bystrica, Prešov, Košice  |
| Member of | EU, Euro Area, Schengen Area, OECD, WTO, NATO, etc.  |
| Currency | Euro (since 1 January 2009)  |
| Type of government | Parliamentary system |
| Official language | Slovak |
The Population of Slovakia and its geographic location
The population of Slovakia is 5.4 million. Although its capital, Bratislava, is one of the smallest in Europe, less than 500 000 live there, its geographical location is spectacular. It is only 40 minutes away from Vienna airport, the hub for Vienna and Bratislava, while the distance between these two capitals is only 60 km. If you decide to visit Slovakia's southern neighbor's capital Budapest, you will drive only 200 km. However, historically and culturally Slovakia's closest neighbor is the Czech Republic. Its capital, Prague, is a 3-hour drive away. So once you are in Bratislava, you've got half of Europe within a stone's throw. And since 2007, without waiting at borders, due to Schengen.
Slovaks speak, of course, Slovak language. However, their language is so difficult that they do not expect foreigners to learn it. Most young people can speak English fairly well. So, if you lose your way, don't panic.
Different industries in Slovakia
Slovakia is a world leader in car production per 1000 inhabitants. 4 world car brands have their factories there (VW, Kia, Peugeot-Citroen, Jaguar-Land Rover). Therefore, the automotive industry has become the main driving force of the Slovak economy.
85% of Slovakia's exports go to Germany 22%, Czechia 12%, Poland 8% and Austria 6%, while outside the EU 2% each go to the United States, Russia, and China.
Top exports:
The main exports from the country include vehicles, electrical machinery, equipment and computers which account for 27.8 billion$, 18 billion $, and 11.2 billion $ respectively.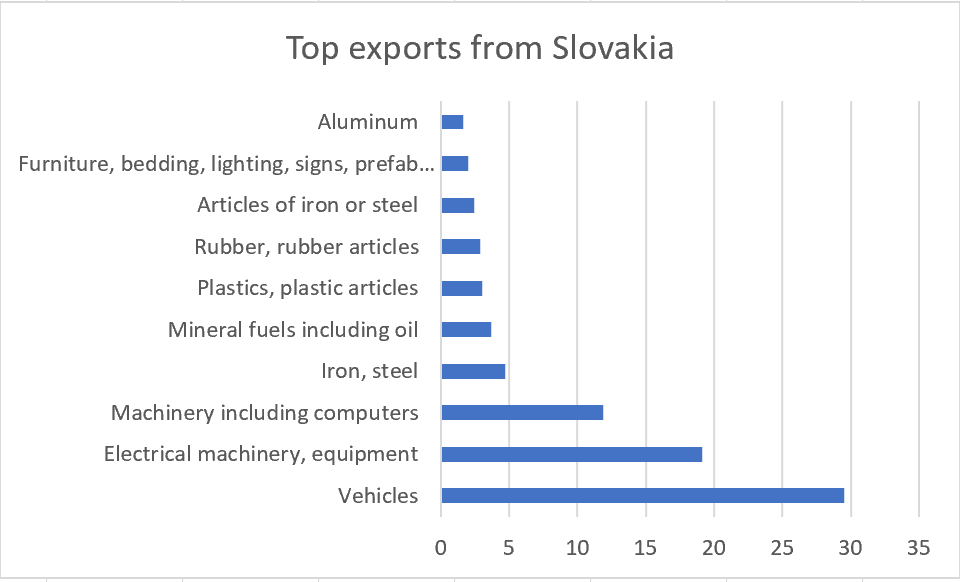 In terms of imports, 80% of all imported goods come from EU countries (Germany 20%, Czechia 17%, and Austria 10%). South Korea (5%) and Russia (4%) account for the exports outside of the EU. The top countries that invest in Slovakia are The Netherlands (25.6%), Czech Republic (12.8%), Austria (11.5%), and Germany (7.1%). The most developed sectors in Slovakia are Manufacturing (32%), Financial and insurance services (18.8%), and Wholesale and retail sector (8.5%).
The economic development in Slovakia
After the fall of communism, the situation in Czechoslovakia was very pessimistic. Irresponsible centrally-controlled communist government caused that after the Federation split in 1993 Slovakia was strongly undercapitalized country with GDP accounted for only 47% of the European average while the Czech industry was more developed and better able to adapt in new era with GDP accounted for 77% of the European average. 
Since then Slovakia has managed to reduce the gap between these two countries and in 2018, the GDP growth was at 4,1% making GDP per capita 77% of European average compared to Czech republic with 88% (GDP growth at 3,0% in 2018), Poland 68% (5,1%) and Hungary 67% (4,3%).
The average net monthly wages amount to 917 € (1219 € gross) compared to 1005 € (1320 €) in the Czech Republic, 943 € (1308 €) in Poland, and 824 € (1204 €) in Hungary. The minimum wage in Slovakia is 580 €. 
The unemployment rate has decreased from 14,4% in 2012 to 5,6% in 2019 compared to 6,3% of the EU. However, Hungary is at 3,4%, Poland 3,3%, and the Czech Republic only 2,1% of the unemployment rate. This is caused by regional disparities and very high unemployment in some regions located in the south and east as shown on the map.