Domain, Hosting and setting up Wordpress
Domain and hosting are the musts for a website. Domain name is the name of your website and hosting service is a place where your all information, images, contents, etc. be stored. While developing your web site we can work with your hosting and domain company but those who do not have any company to cooperate, we would like to give information about this services. We are working with high technology and well secure hosting company-Gurudesk. As well as hosting company we are cooperating with the biggest domain name provider company which is Godaddy. At this point domain and hosting, companies are very important, especially the support and technical services if you have a problem. According to the research of W3Techs, WordPress was used by more than 27.5% of the top 10 million websites as of February 2017. We are using Wordpress to build websites thanks to flexibility, security
Deciding theme and arranging content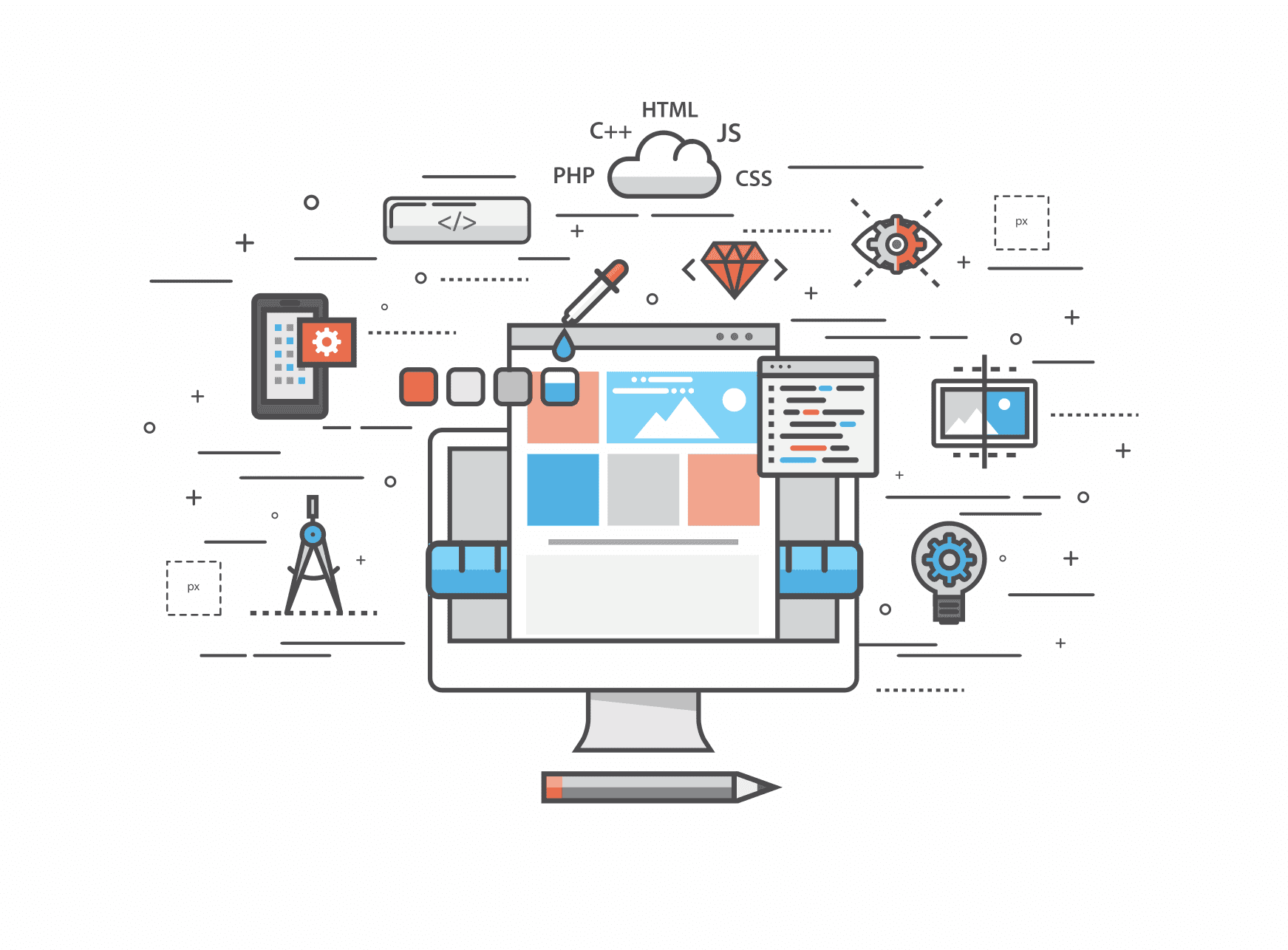 There are millions of themes to be used for your web site. Firstly, we are deciding and arranging content to use for the website. According to your needs and content, we are offering a list of themes to use for your website. More than 60 percent of searches now from mobile devices. At this point, a website without responsive features can not be thought. We usually purchase our themes from Themeforest according to rates and reviews. We are also working with the Elegant theme thanks to their frontend user friendly Divi Builder. We have experience with the Betheme, Divi and Extra from Elegant theme, Jobscareer, Instapage, etc.
Developing and designing website
After all that process, we are preparing website development timeline for our customers. According to the requirements of website and language firstly defining the designs elements like font types, colors, logos, images to use on the web site. Depending on wishes of our customer we can use images or icons from the theme or we can design internally and customize it. While developing CTSOK website we use the icons and images which provided by Czech - Turkish Chamber of Commerce with the customized colors. And as a first step, we added some fundamental plugins to protect website from spams and malwares, improve performances, increasing the visibility, etc. Subscription function is one of the most important function in CTSOK website as Chamber would like to share the news and update with its members and readers. When we are developing Yeye People website, which is for recruitment, we cooperate with the designer, hosting experts a lot. We had to setup SSL certificate to secure our personal information. We developed and designed one page and landing page websites depend on the requirement of our customer.

Testing and Reviewing website
Testing website and functions on different search engines
Testing website on different screen dimensions and platform to see and develop sufficiency of theme's responsive
Checking website's plugins, buttons, internal and external links
Creating and executing scenarios to test the website with the coordination of our hosting experts
SEO and Registration to search engines
Search Engine Optimization (SEO) is most of for all internet world. Doesn't matter if you're writing a blog, selling products on the internet, etc. Google holder of the biggest piece of cake in this market. According to the information, we are focusing to behave and develop appropriately website for compatible Google's algorithm. What we did for SEO;
Setting up for plugins to benefit SEO as much as we can
Arranging SEO for every single page
Registering website to each search engine (Google, Yandex, Bing, etc.)
Depends on website type we are adding backlink to other websites which have so much visitors like forums, directories
Preparing site map and adding to search engines
For learning more about our website development experience, you can visit our
facebook page!