Germany is one of the most popular choices for foreigners from all around the world to find a job and settle. The country offers a wide range of opportunities to expats and freelancing is just one of them. Who can become a freelancer in Germany? And what are the requirements for it? How to deal with the German bureaucracy?
In Germany, there are 2 different types of self-employment
Freiberuflich (Freelancer) – only people with the ability to do work from a comprehensive list of a number of professions can be entitled to this kind of self-employment in Germany. The list of such professions includes scientists, scholars, teachers, artists, reporters, doctors, dentists, programmers, translators, consultants, lawyers etc. according to the German law (EStG § 18). Freiberuflich is a relatively easier version of self-employment in Germany since it does not require registration of business.
Gewerbetreibende (businessperson/tradesperson): If you have a commercial profession that is not in the official list of freelancer jobs in Germany, you could qualify for this type of self-employment only. In this case, you will need to register your business at the Business Registration Authority in Germany (Gewerbeamt).
Although both titles prove you are not working for an employer, there are major differences between the two categories. The main difference is that a tradesperson can only perform his business under a brand name, while a freelancer doesn't need this even if their job is not in the list of liberal professions. Moreover, freelancers pay fewer taxes compared to tradespersons.
Who can become self-employed in Germany?
According to German law, all foreigners can practice as a freelancer in Germany if they qualify for the legal requirements. Citizens of the EU, Switzerland, Norway, Iceland, and Liechtenstein can work in Germany without a freelancer visa/residence permit. Upon the start of their practice, they need to register at the Foreigner's Office and also meet other legal requirements to become self-employed. Foreigners from other countries will need to obtain a freelancer visa for Germany and proceed with the next steps to freelance legally. 
The criteria for freelancing are:
Their profession should be listed in the list of liberal professions or it is at least similar to those provided by the Germany Tax office.

There are a need and economic interest in the services you would like to provide in different regions of Germany.

The person must have enough financial resources to fully support themselves while residing in Germany.
What are the requirements for becoming self-employed?
If you do not have a residence permit in Germany already, you will need to submit your application for a freelancer visa for Germany at the German Embassy/Consulate in your country. The process is very similar to regular visa procedures exception of following extra documents:
Confirmation of professional ability: for example, a license proving your expertise in law.

Previous work – examples of your previous freelancing experience 

Freelance plan
Letters from your potential future employer/customers – to prove that they will need your services.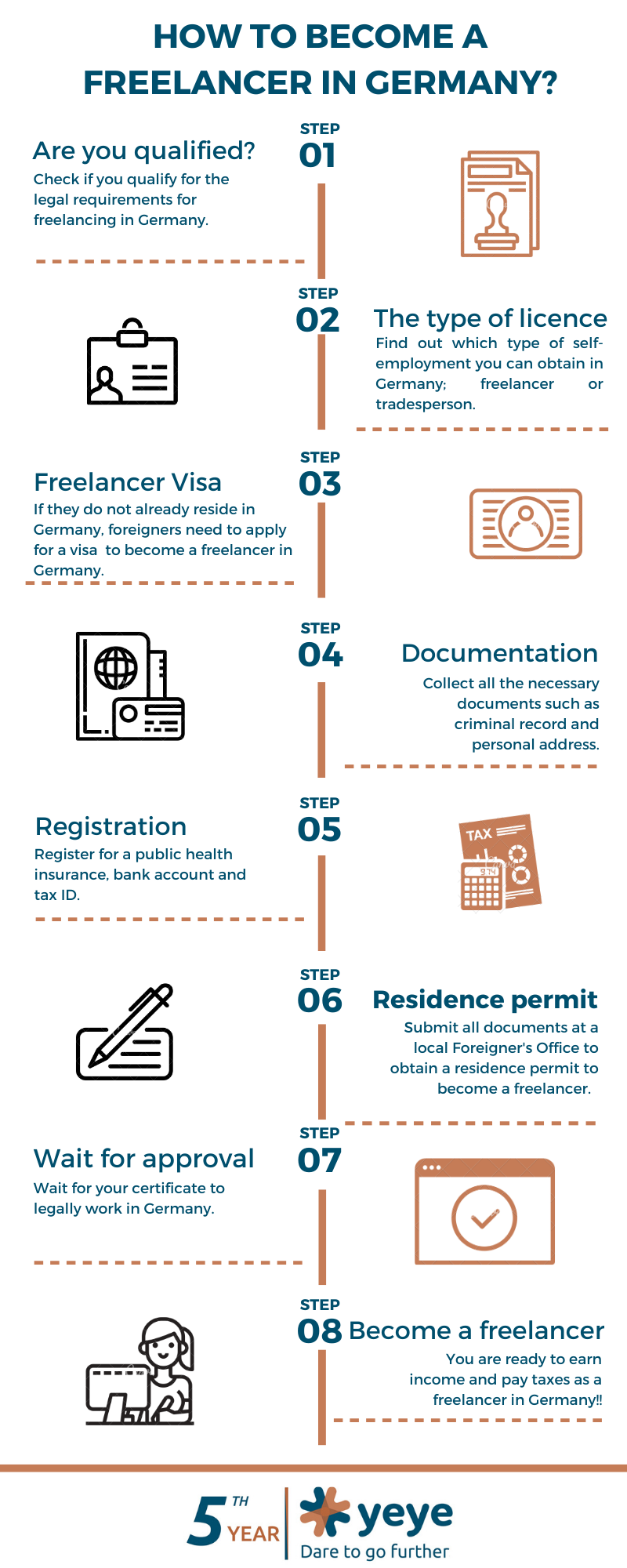 After successfully relocating to Germany, you will need to register your home address at the Foreigner's office.
Getting health insurance that covers the whole period they need is one of the most important steps. Whether public or private, make sure you choose the health insurance for you. Then, open a bank account in a bank in Germany and obtain a tax ID from the Tax Registration Office (Finanzamt). The unique tax identification number will be used by you to make a charge for your services from the clients and also by the tax office to collect taxes. After completing all these necessary steps, you will need to apply for a residence permit for freelancing. And you can finally make a living from your freelancing activities in Germany. You can now start with bookkeeping and paying taxes. Freelancers will need to pay the income tax and value-added tax. After 3 years of freelancing, you can apply for a permanent residency in Germany.
Overall, Germany offers great opportunities for foreigners who would like to before self-employed in Germany, despite the potential bureaucracy that could be faced.